_______________________________________________________________________________________________________________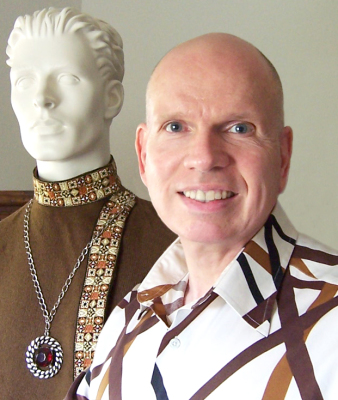 Daniel Delis Hill grew up in Knoxville, Tennessee. He is the 9th of 11 generations from one of the First Founding Families of Tennessee. He completed his BA in art history from the University of West Florida and received his MA in art history from Florida State.
While attending high school and college, he worked as a freelance fashion illustrator, mall promotions ad designer, and media center graphics artist. In the 1970s and early 1980s, he worked as an in-house fashion illustrator for several department stores. For two years he taught in the Fashion Department of Virginia Commonwealth University before returning to the field. By the second half of the 1980s, he became interested in fashion photography and worked as a retail advertising art director and creative director.
In the mid-1990s, he joined Wentworth Publishing as Director of Creative Services and Publications, during which he began work on his first book: Advertising to the American Woman 1900-1999. While at Wentworth, his team developed and launched Internet-related books, periodicals, and Websites for K-12, including Classroom Connect (later acquired by Houghton Mifflin Harcourt). With his combined Web and marketing experience, Hill returned to retail in the late 1990s, developing and marketing ModernWomanOnline.com. In the 2000s, he transitioned to Web marketing, designing and managing numerous Websites for financial institution services such as Merrill Lynch and First Data.
Following the release of Advertising to the American Woman 1900-1999 in 2002, Hill wrote As Seen in Vogue: A Century of American Fashion in Advertising (2004.) Prentice Hall then invited him to write the college textbook History of World Costume and Fashion (2010), a much-needed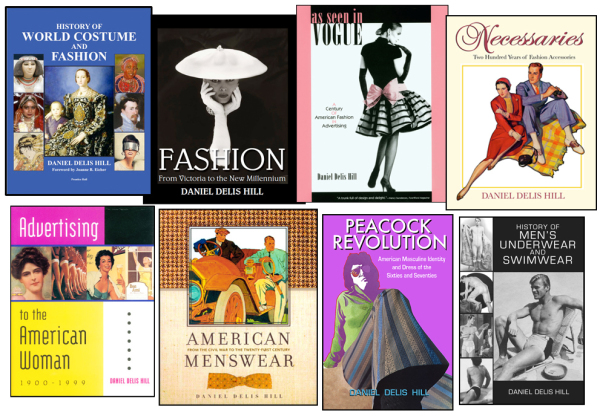 but also examines their correlation to changing ideas and ideals of masculinity and dress. Hill also includes a detailed chapter on the marketing of underwear and swimwear by manufacturers and retailers from the nineteenth century to the new millennium.
Hill's seventh book Necessaries: Two Hundred Years of Fashion Accessories was released in 2014. This comprehensive study surveys women's and men's fashion accessories from the early 1800s into the 2010s.
Since 2012, Hill also has written essays for the Berg Encyclopedia of World Dress and Fashion and American National Biography (Oxford University), and  has taught fashion history at the University of the Incarnate Word, San Antonio, Texas. He is currently working on a new book about the Peacock Revolution in American men's fashions of the 1960s and 1970s due for publication in 2018. (See tab for Peacock Revolution.)
​Readers are invited to email comments, questions, or suggestions to:
global view of the topic that includes chapters on Japan, China, India, Africa, the Islamic Empire, and the ancient Americas. The modern era chapters of World Costume were expanded into Fashion from Victoria to the New Millennium (2012), with greater detail, color throughout, and more than a hundred additional illustrations covering 1800 to the 2010s.
   
During the production of World Costume, Hill was asked by the Costume Society of America to write a history of men's fashion to complement As Seen in Vogue. The resulting American Menswear from the Civil War to the Twenty-First Century was published by Texas Tech University Press in 2011.


In researching Menswear, Hill discovered that little published research was available on men's underwear and swimwear. Upon completing Menswear, he used his extensive collection of primary source material to produce History of Men's Underwear and Swimwear. This in-depth, thoroughly illustrated study not only chronicles the development of these two categories of garments, ​​



Copyright Daniel Delis Hill   2017